Main Page
From P2P Foundation

"Together we know everything, together we have everything"
Welcome to the P2P Foundation Wiki
The P2P Foundation is an international organization focused on studying, researching, documenting and promoting peer to peer practices in a very broad sense. This wiki is our knowledge commons. Our motto is "Together we know everything, together we have everything", i.e. pooling our resources through commons, creates prosperity for all. We document thousands of initiatives going in that direction on order to create "Hope with evidence".

For a quick introduction see our 2015 summary 'What does the P2P Foundation do?'.
Scroll down to browse through our various sections
"In order to change an existing paradigm you do not struggle to try and change the problematic model. You create a new model and make the old one obsolete. That, in essence, is the higher service to which we are all being called." ~ Buckminster Fuller ~

Watch this 20 min overview of our key proposals and introductory videos.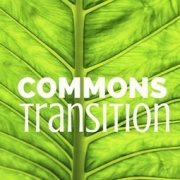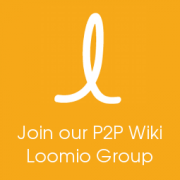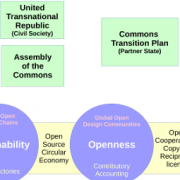 Recent Articles
Introduction to the Commons Transition.
Why We Need a New Kind of Open Cooperativism for the P2P Age
From the Communism of Capital to a Capital for the Commons
The Foundation

Our Ideas

Our Key Resources

* new! : check out our Multi-Category Search for Combined Category Searching ! Explanations here!

Join Our Learning Community!

Learning More

Who We Are

Overview of P2P Transition Proposals




Topics

We are looking for maintainers for our subject pages! Interested?

The P2P Paradigms

See also:

The Three Aspects of Application in Society

The Peer-Driven Collaborative and Ethical Economy

is based on

Collaborative Economic Practices

using new

that aim to

and create income through

and find investments through

based on

P2P Value Metrics and Open Accounting

that are enabled through new

and true

P2P Technological Infrastructures.

This necessitates the construction of

for

Open and Distributed Manufacturing

New P2P Culture

Domains

How P2P Influences Society

Resources

Companies with P2P business models

Conferences on P2P topics

Courses: P2P Curricula

Encyclopedia : New! Mini-version

Individuals, Who's Who in P2P

Licences: open and free licenses

Movements, P2P and commons-oriented org's

Research on P2P

Resources and tools

Statistics on P2P trends

Media Resources

Special Projects




Theory Projects

P2P Foundation Theory Project




Our eBooks




Our Printed Books

P2P Provisioning Systems

Ten essential provisions for human life:




What Comes After ?

</div>

Our aims

We function as a clearinghouse for open/free, participatory/p2p and commons-oriented initiatives.

We aim to be a pluralist network to document, research, and promote peer to peer alternatives. Our political aims could be summarized under the following maxims:

ending the destruction of the biosphere by abandoning the dangerous conceptions of pseudo-abundance in the natural world (i.e. based on the assumption that natural resources are infinite);
promoting free cultural exchange by abandoning the innovation-inhibiting conceptions of pseudo-scarcity in the cultural world (i.e. based on the assumption that the free flow of culture needs to be restricted through excessive copyrights etc...).

How to support us?

How you can help us?; How To Contribute; How to Write for our Wiki; P2P Foundation Wiki Requested Articles
Important notice on COPYRIGHT: Fair Use Notice

.....Our three strategic priorities for 2015-2016 are:




stream 1: co-creating and catalyzing the alternative eco-system for open and cooperative peer production and reconstruction and economic and social power around the commons (this includes work on our Commons-Based Reciprocity License, Open Cooperativism and Phyles, and ethical enterpreneurial coalitions that co-produce commons)




stream 2: recreating political voice and power, through bottom up Assemblies of the Commons and Chamber of the Commons that put forward social charters, AND through "top-down" progressive coalitions (through existing politics and parties) coalitions around the commons , i.e. 'the politics and policies of the commons', that continue our efforts to implement Commons Transition Plans.




stream 3: creating synergies between cooperative peer production and sustainability, i.e. showing how a transition to the new mode of production, governance and ownership, can solve the ecological / climate crisis

P2P Around The World

Here is a list of Country Categories. These categories list all pages that contain country relevant tags for example [[Category:Brazil]] will list all pages with the tag [[Category:Brazil]] in the wiki text. Categories and Pages are different. Categories are directory listings so we use country Pages for general information and discussion for example Brazil. For a listing of all country Categories AND Pages and a quick guide on how you can help build a directory of P2P activities around the world see Country Category.
* Page d'accueil francophone pour le wiki
Catalan-Language ; Chinese-Language - Croation-Language - Dutch-Language - French-Language - German-Language - Greek-Language - Hungarian-Language - Italian-Language - Latvian-Language - Malayalam-Language - Mongolian-Language - Polish-Language - Portuguese-Language - Romanian-Language - Russian-Language - Serbian-Language - Spanish-Language - Swedish-Language - Thai-Language
Partners

Friends and partners: Appropedia ; Espians ; Fing ; Global Village Network ; Global Swadeshi ; Hipatia ; The Hub ; Institute for Distributed Creativity ; Oekonux ; Open Source Ecology ; OpenKollab ; openMaterials ; Open Manufacturing ; openp2pdesign.org ; P2P Research Group ; Platoniq ; United Diversity; Entrepreneur Commons; Ethical Markets TV;
See also: Our Wiki Neighbours
Show Some Love
We are a small organisation and need your support to maintain and update our knowledge commons.
Thank you for making a donation.


fEtAzqZkqaBXdYDeG9mjnJ6KUuaz1FHzM6


13E2PjtLwaN2tYdzPx4TjUzHTcH1hn12oH


with Paypal.
What our visitors are interested in
Currently this wiki contains
31,959 content pages with 102714 total editions.
2071 registered users
This wiki have been visited more than 23,511,999; our home page was visited 1,144,923 times. (updated September 04, 2012)
See [5] and [6] for an insight into our influence through retweets.