Category:P2P Solidarity
From P2P Foundation
= this section is dedicated to the development of Commonfare, "a participatory form of welfare provision based on collaboration among people".
Introduction
[1]. How do we evolve towars "relations of open reciprocity, communal sharing, gift-giving and voluntary collaboration allowed value to circulate in its unalienated forms, including labor power, political expression and interspecies ecological exchanges". [2]
Key document from the P2P Foundation: Value in the Commons Economy, our report on the transition in value regime, by Michel Bauwens and Vasilis Niaros.
Worthy of attention and support
The P2P Foundation supports the emergence of Commonfare practices of social solidarity for networked workers who co-created commons and shared resources (see our special section http://p2pfoundation.net/Category:P2P_Solidarity), as well as their integration with a strengthened welfare system. In particular we support the creation of 'labor mutuals', i.e. freelance coops which already exist in the French-speaking world (Coopaname in France ; SMart in Belgium, Bigre, etc ..; see the project of AltGen in the UK). Read up here at Business and Employment Cooperatives, they are a "legal form (in Belgium, France ?) that allows self-employed to be salaried by their own joint cooperative, thereby obtaining the social protections of the salaried workers".
Key Resources
Key Articles
Key Books
Guy Standing. Precariat Charter: From Denizens to Citizens. Bloomsbury, 2014 [6]: discusses how rights - political, civil, social and economic - have been denied to the Precariat, and argues for the importance of redefining our social contract around notions of associational freedom, agency and the commons."

Background:
Hauke Brunkhorst, Solidarity: From Civic Friendship to a Global Legal Community, trans. Jeffrey Flynn (Cambridge, Mass: The MIT Press, 2005): " a comprehensive intellectual history of solidarity from Aristotle to the present, with a chapter devoted the related concept of fraternité in post-revolutionary French thought"
Esping-Andersen, G. 1990. The Three Worlds of Welfare Capitalism. Princeton, NJ: Princeton University Press.

In French:
Marie-Claude Blais, La solidarité: Histoire d'une idée (Paris: Gallimard, 2007).
Key Policy Documents
[8] ; proposes 3 simple principles.
Key Practices
(Neo)Traditional Gifting/Sharing/Cooperative Practices:

Via Co-Creative Recipes:
Visualizations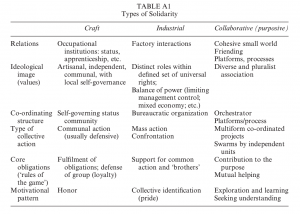 Pages in category "P2P Solidarity"
The following 198 pages are in this category, out of 198 total.