User talk:Orcmid
Jump to navigation
Jump to search
Dear Dennis, James told me he deleted the application which caused the 'black page' difficulties,
do you have any other difficulties?
normally, editing pages should be as easy for you now as for other folks, our 'abundance' pages can be easily found by typing the concept in the search box,
Michel
Dear Orcmid,
I don't deal with technical issues and difficulties, but have forwarded this to james burke, and hope he will engage with you on this.
The reason I thought that perhaps you were joking is that I have never seen any captcha's upside down ... --Mbauwens 01:31, 29 November 2010 (UTC)
Initial Difficulties
There is no preferences selection on the upper-right pull-down. I am frustrated at being able to set my user preferences.
I also don't see discussion pages in the theme as it appears once I registered. So I have no polite way to raise questions or offer discussion. The prospect of doing that is what got me here in the first places.
The captcha's are quite difficult, especially when a word is upside down.
Response
If this is a genuine message, I have asked James Burke to look into this,
-- Mbauwens 02:35, 28 November 2010 (UTC)
Follow-Up
I have found my preferences under the Toolbox tab of the pull-down (it has two parts, Navigation and Toolbox).
I experimented with changing themes to see if that would make any difference, but all of the theme previews show the same theme, the one I have had since I registered.
Prior to that, the appearance was that of a conventional MediaWiki page, with tabs for discussion at the top along with the View tab for the page itself.
I would upload a screen-capture for you if that will help. I will have to look to see if there is an upload provision.
I have captured this page to show what it is I see with the pull-down. I will see if I can upload it after I post this addition to my talk page.
I am surprised that my report is suspected to be capricious or not genuine. I have confirmed my accurate e-mail and provided links to places where I am known. You can search the internet for "orcmid" and you will also find me, under my full name, Dennis E. Hamilton, as an active voting member of the OASIS Open Document Format for Office Documents (OpenDocument) Technical Committee and as the Secretary of the OASIS Open Document Format Interoperability and Conformance (OIC) Technical Committee.
It is really strange to have to figure out how to enter "congwes hōyō;" for a capcha too.
Images of My Editing Adventures
I have managed to upload images. The first one shows my editing of the Follow-up section, with the upper-right pull-down and the Toolbox tab. It too me some time to discover my preferences page under the "Special Pages" topic.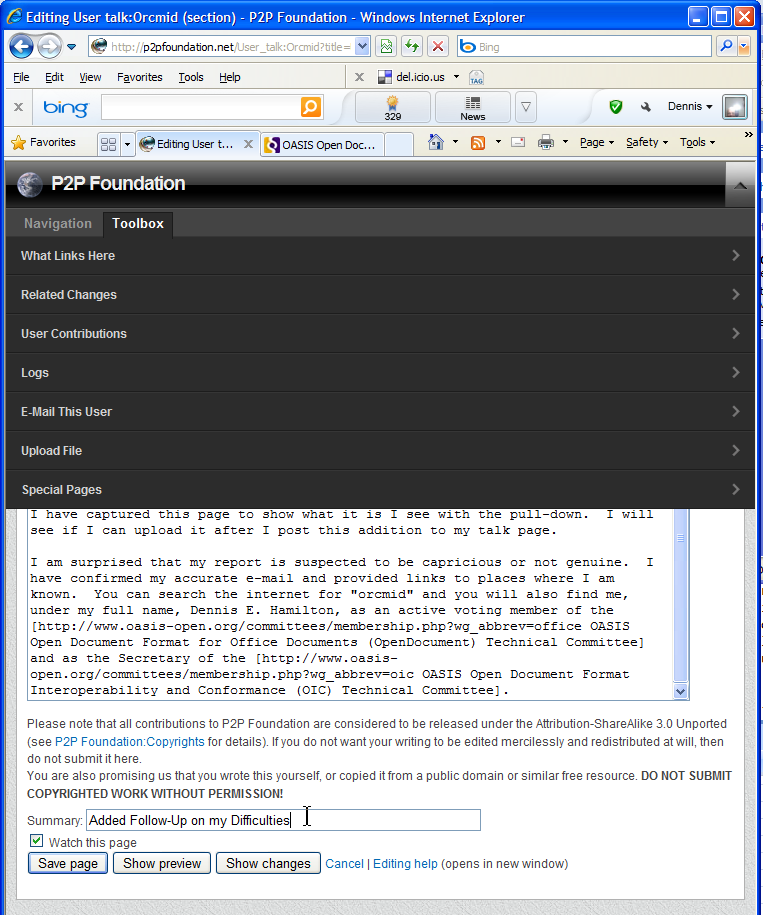 While I was making the edits that you can see beneath the pull-down area, I was using WikiText. When I started the edit using the edit link on the second heading, I saw HTML markup instead of WikiText. I went ahead simply assuming that it was still appropriate to enter WikiText (MediaWiki version).
When I posted my changes, the edit link on the second heading vanished, and the HTML version of the time-stamp from MBauwens was no longer formatted properly.
I cannot account for any of this. Finally, I received a WordPress (!) message when I clicked a link in the file upload page that resulted when I uploaded the second of my screen captures.
Here is an image of what I saw after I had saved the page with my section 3 additions: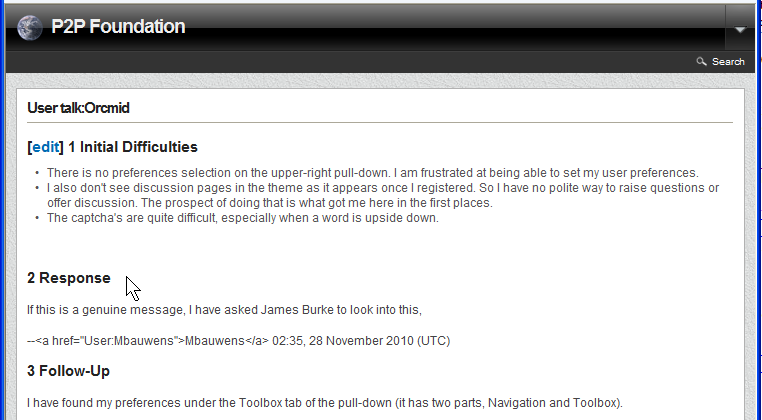 Efforts to Restore Editable WikiText as the ground for this page
This update was initiated by manually entering a URL that would bring up the editor on this page:
I then turned all of the HTML markup on the page back into WikiText to see if that would put the page back in proper form.
According to the preview, I am succeeding. Yay!