Diamond of Participation
Jump to navigation
Jump to search
= facilitation methodology explained by Sam Kaner in his book.
Sam Kaner himself gives it the full title as the "Diamond of Participatory Decision-Making" (p.20) He credits the help of Lenny Lind, Catherine Toldi, Sarah Fisk and Duane Berger.
Description
"The diamond is a map that points to three phases that groups pass through as they move from questions to insights. Groups begin with divergent thinking, sit for a while in the chaos and uncertainty of "The Groan Zone" and later move into convergent thinking."
( http://www.chriscorrigan.com/parkinglot/divergent-and-convergent-thinking/ )
Graphic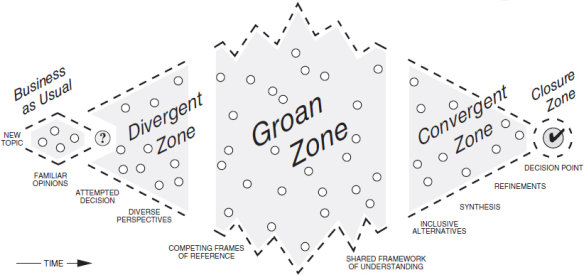 From "Facilitator's Guide" 3rd edition page 364.
Usage
The diamond of participation is elaborated in Art of Hosting circles to what is called the "8 breaths" model, with 7 small diamonds inside one large one.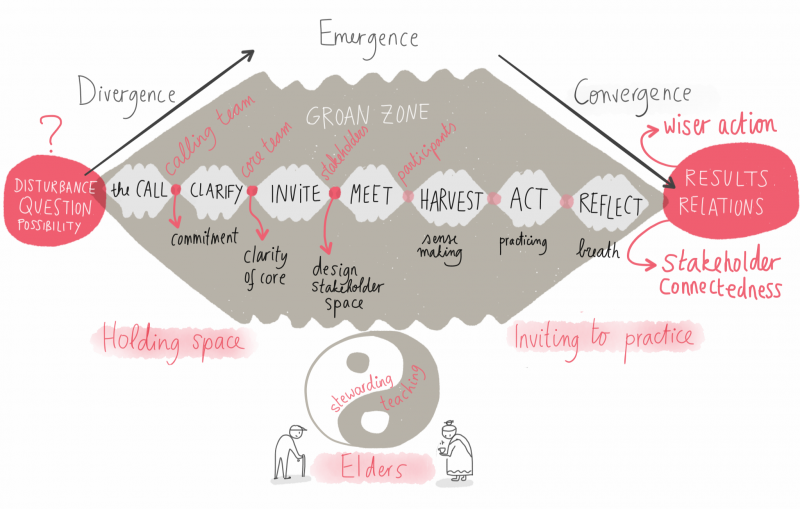 More Information
Book. Facilitator's Guide to Participatory Decision-Making. Third Edition. Sam Kaner et al. Jossey-Bass, 2014.