Christina Priavolou
Jump to navigation
Jump to search
Bio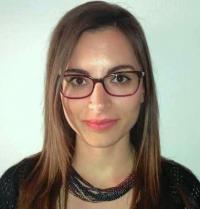 Dr. Christina Priavolou is a Core Member at the P2P Lab. She is a civil engineer (5-years BSc, University of Patras, Greece) and holds an interdisciplinary MSc in Environmental Development (National Technical University of Athens, Greece). She has a two-year experience in both private and public works. She is also member of the COSMOLOCALISM research team, coordinating the Sustainability Stream and a Research Fellow at the Ragnar Nurkse Department, TalTech.
Contact: christina.priavolou at gmail.com
Publications
Peer reviewed articles
Priavolou, C., Troullaki, K., Tsiouris, N., Giotitsas, C., & Kostakis, V. (2022), Tracing sustainable production from a degrowth and localisation perspective: A case of 3D printers, Journal of Cleaner Production, 376, 134291. site
Troullaki, K., Rozakis, S., Latoufis, K., Giotitsas, C., Priavolou, C. and Freire, F. (2022), Sustainable rural electrification: Harnessing a cosmolocal wind, Energies, 15(13): 1-16. site
Priavolou, C., Tsiouris, N., Niaros, V. and Kostakis, V. (2021), Towards sustainable construction practices: How to reinvigorate vernacular buildings in the digital era?, Buildings, 11(7): 297. site
Pantazis, A. and Priavolou, C. (2017), 3D printing as a means of learning and communication: The 3Ducation project revisited, Telematics and Informatics, 34(8): 1465-1476. site
Reports
Niaros, V., Pantazis, A., Priavolou, C., and Martelloni, L. (2017). The maker movement: Values and principles. Prepared for the Open Design & Manufacturing project. text
Book Chapters
Priavolou, C. and Lemos, L. (2021). Looking for sustainability in distributed design: A future between rural communities and cryptocurrencies. In: This is Distributed Design: Making a new local and global design paradigm (250−255). Barcelona: Distributed Design.
Priavolou, C. (2019). Tzoumakers - Co-creating Solutions for Agriculture. In: Armstrong, K., Diez, T., Goldapple, L., Schmidt, A., & Villum, C. (Eds.), Design, Remix, Share, Repeat: How distributed design is changing the way makers and designers approach collaboration, tools and the market (70−73). Barcelona: Institute for Advanced Architecture of Catalonia. text