Difference between revisions of "Introduction to the P2P Foundation Wiki Material about the Commons"
Jump to navigation
Jump to search
Line 99:
Line 99:
 

#[[Knowledge Commons]] ; [[Knowledge as a Commons]]

 

#[[Knowledge Commons]] ; [[Knowledge as a Commons]]

 

#[[Learning Commons]]

 

#[[Learning Commons]]

 
+
 

#[[Music Commons]]

 

#[[Music Commons]]

 

#[[Open Education Commons]]

 

#[[Open Education Commons]]
---
Revision as of 06:08, 4 August 2010
= What we share. Creations of both nature and society that belong to all of us equally, and should be maintained for future generations. The Commons has the potential to replace the commodity as the determining form of re-/producing societal living conditions. Such a replacement can only occur, if communities constitute themselves for every aspect of life, in order to take "their" commons back and to reintegrate them into a new need-focused logic of re-/production. [1]
This new section exclusively devoted to the emergence of Commons in various fields.
Introduction
"Our global economic system is now in grave crisis, threatening the entire planet, its institutions and species.
A new kind of common wealth is needed to protect the assets of Earth, resolve our private and public debts, and create a global society of justice, sharing and sustainability for everyone.
Our commons are the collective heritage of humanity — the shared resources of nature and society that we inherit, create and use. People across the world are now rediscovering these common goods and choosing to protect them for future generations.
Whether our commons are traditional (rivers, forests, indigenous cultures) or emerging (solar energy, intellectual property, internet), communities are managing them through unique forms of self-governance, collaboration and collective action. And in working together to preserve these resources, we are generating new standards of responsibility, mutual aid and sustenance for all beings.
Global Commons Trust promotes the creation of trusteeships, where the rights to our commons may be realized for the benefit of all." (http://globalcommonstrust.org/)
Visualization
Twelve Key Assets of Ogallala Commons
source: http://www.onthecommons.org/stem-cord-web-relationships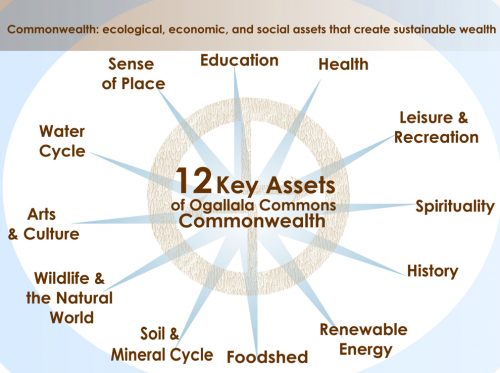 Typology
1. See also: Commons - Typology

2. Sam Rose and Paul Hartzog offer the following typology for Commons based on different distributed infrastructures:
  1. Energy Commons
  2. Food Commons
  3. Thing Commons
  4. Cultural Commons
  5. Access Commons


3. Seven Policy Switches By James Greyson
"James Greyson [4] proposes Seven Policy Switches and associated strategic commons to achieve a rapid reversal or multiple global problems. "Together the switches define a practical strategy for global security, for a serious attempt at revival of co-operation, ecosystems and prosperity." [5]
Examples
Physical Commons:
Knowledge/Culture Commons:
Institutional Commons:
Citations
Sam Rose on Transition Economics
"Where people work together to both share those resources that are shareable now (software, designs, knowledge, waste that can be used as food, surplus capacities and resources) and cooperate to produce items that are still based in scarcity, then re-invest the profits into creating more and more abundance-economy-based systems."
- See Sam Rose on the need for Cooperative Wealth Building facilitators
Neoliberalism as the Anti-Commons
"As neoliberalism converts every political or social problem into market terms, it converts them to individual problems with market solutions. Examples in the United States are legion: bottled water as a response to contamination of the water table; private schools, charter schools, and voucher systems as a response to the collapse of quality public education; anti-theft devices, private security guards, and gated communities (and nations) as a response to the production of a throwaway class and intensifying economic inequality; boutique medicine as a response to crumbling health care provision; "V-chips" as a response to the explosion of violent and pornographic material on every type of household screen; ergonomic tools and technologies as a response to the work conditions of information capitalism; and, of course, finely differentiated and titrated pharmaceutical antidepressants as a response to lives of meaninglessness or despair amidst wealth and freedom. This conversion of socially, economically, and politically produced problems into consumer items depoliticizes what has been historically produced, and it especially depoliticizes capitalism itself. Moreover, as neoliberal political rationality devolves both political problems and solutions from public to private, it further dissipates political or public life: the project of navigating the social becomes entirely one of discerning, affording, and procuring a personal solution to every socially produced problem. This is depoliticization on an unprecedented level: the economy is tailored to it, citizenship is organized by it, the media are dominated by it, and the political rationality of neoliberalism frames and endorses it."
- Wendy Brown [15]
Key Resources
Key Blogs
Key Books
Christian Siefkes (2007), From Exchange to Contributions: Generalizing Peer Production into the Physical World. [16]: proposal for a commons-based economic system
Book: Common as Air. Lewis Hyde. 2010
On specialized commons:
The Common Thread. By John Sulston: a nuanced defense of treating knowledge of the genome as a commons.
Genes, Bytes and Emissions: To Whom Does the World Belong? Ed. by Silke Helfrich. Heinrich Boll Foundation, 2009
On the Water Commons: Blue Gold: The Fight to Stop Corporate Theft of the World's Water. By Maude Barlow.the Water Commons
Key Essays
Introductory article:
Four conditions for successful commons. by Mark van Vugt: "I have identified four key conditions for the successful management of shared environmental resources: information, identity, institutions and incentives. I believe we can and should use this 4i framework as the basis for a plan of action to combat local and global environmental catastrophe."
Major essays:
Also:
Philippe Aigrain: The Reinvention of the Commons in the Information Age (french)

Manifesto's:
Special Authors:
People Sharing Resources. Toward a New Multilateralism of the Global Commons. James Bernard Quilligan Kosmos Journal, Fall | Winter 2009: this article frames what a global commons-based policy and governance structure should be.
James Quilligan: Toward a Commons-based Framework for Global Negotiations

Special Topics:
Aesthetic Commons and the Enclosures of Instituting Autonomies. By Jordi Claramonte. [22]
Key Policy Proposals
Key Events
Key Organizations
Key Videos
Commons Encyclopedia