Difference between revisions of "Category:Open"
Jump to navigation
Jump to search
Line 49:
Line 49:
 

==Culture, Education and Knowledge==

 

==Culture, Education and Knowledge==

 
 
 
+
 
+
 
+
 

* Editorial by George Siemens: [[Openness in Education should have firm principles]]

 

* Editorial by George Siemens: [[Openness in Education should have firm principles]]

 

* The three key aspects of [[Open Education]] are: 1) [[Open Content]]; 2) [[Open Instruction]]; 3) [[Open Assessment]]. Read Stephen Downes on The Necessary [[Threefold Opening of Education]]

 

* The three key aspects of [[Open Education]] are: 1) [[Open Content]]; 2) [[Open Instruction]]; 3) [[Open Assessment]]. Read Stephen Downes on The Necessary [[Threefold Opening of Education]]
---
Revision as of 09:56, 19 August 2011
This section is dedicated to the question: what is common to openness in these various domains, and what is different?
This project was initially inspired by the Open Everything project started by Mark Surman, David Eaves and friends.
The technical aspects of openness are documented in our wiki secton on Open Standards]
Introduction
Visualization
Below is a depiction of a simplified view of Open Everything at the strategic level. Our early focus is on the Open Source Tri-Fecta, the needed combination of [[Open Source Software[[, Open Spectrum, and Open Source Intelligence.
Graphic by Robert Steele: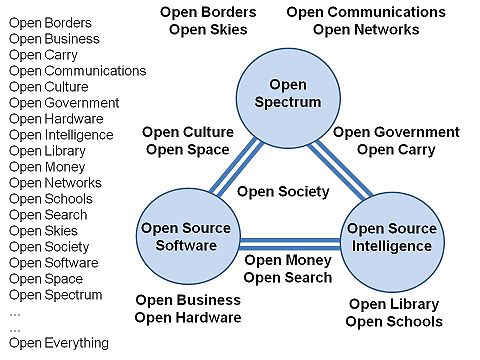 Other Overview Graphics
See also
Graphic overview of the spread of openness and open standards
The meme-ing of open, by Seb Paquet, at http://docs.google.com/View?docid=dfpvr6w7_11g98b73dh (compares open systems, society, space and source)
Specialized forms of openness
Business
"While "open" normally has connotations of public goods, the idea of "open"-ness has been used for decades as a competitive strategy by firms in the computers and communications industries. Phrases like "open standard," "open source" and more recently "open innovation" have been used to refer to these strategies.What do they have in common? Which ones really are "open"? What does "open" mean, anyway? Here I contrast firm strategies for these three types of "open"-ness in the context of their respective business models."
Culture, Education and Knowledge

Also:
Politics
Transparency and Accessibility as aspects of Openness
From Open Space to Open Politics. From Jai Sen's article: On Open Space: Explorations Towards a Vocabulary of a More Open Politics. Jai Sen. Antipode. Volume 42, Issue 4, pages 994–1018, September 2010 [3]
Science & Technology
John Wilbanks insists that: Open Science differs from Open Source Software!!
Related Initiatives
Open Everything - Canada [4]: "One of big Everything goals is to map what people are doing with 'open' around the world."
Our pages on Open Standards and Open Design Communities, with our Open Hardware "Product Hacking directory".
Open Definitions
1. Dimensions of Openness
The authors of the Open Collaboration Encyclopedia created a simple rating system composed of four dimensions each on a scale of four. Check it out here on page xiii: http://web.mac.com/cusp/Pioneer_Imprints1/Open_Collaboration_Freemium.html
non-hierarchical vs. hierarchical
2.
Mark Surman discusses openness here at http://commonspace.typepad.com/commonspace/2008/02/open-vs-open-vs.html and has added a chart at http://docs.google.com/View?docid=dfpvr6w7_11g98b73dh
The Open Standards Definition. By Bruce Perens.
The Open Software Service Definition, i.e. The Free/Open Service Definition (v1.0)
Free Definitions
Short Citations
The digital is the realm of the open: open source, open resources, open doors. Anything that attempts to close this space should be recognized for what it is: the enemy.
- Digital Humanities Manifesto
Long Citations
Open source is often presented as a methodology, not an ideology – i.e. open source is an approach of collaborative work, shared creation, continual iteration (insert your favorative Torvalds or Raymond quote of bugs, many eyes, cathedrals, bazaars, release early/often, etc.). But openness is not a methodology. Openness is an ideology along the lines of democracy. It is worthy of theoretical discussion. And various modes of implementation should be subject to debate and criticism.
- George Siemens [5]
On the Advantages of Open Platforms
In an article critical of the closure of the Apple iPhone, the following entry summarizes the arguments for open platforms.

"An open platform allows developers to implement functionality the platform provider hasn't gotten around to yet.
An open platform allows developers to reimplement and replace functionality the platform provider has gotten around to, but has failed to do well.
An open platform allows developers to meet needs that scare the platform provider, and allows consumers to have those needs met where otherwise the platform provider would block a capability.
An open platform allows its users to get far more done, and latches them to that platform far more tightly as a result." (http://radar.oreilly.com/archives/2007/01/four_stories_on.html)
Open Platform Literacy requirements
What we need to know to judge the difference between open and closed (proprietary) platforms.
By Ulises Mejias:
"The ability to articulate the difference between open (FLOSS) and proprietary social media platforms (including how to tell when the former mutates into the latter, and what to do about it).
- The ability to determine when it's appropriate to use open (FLOSS) or proprietary social media platforms to promote social change with maximum effect.
- The ability to understand the social agency of code of a particular technology, i.e., how the program promotes, constricts or redefines social functions through its affordances.
- The ability to identify the benefits of contributing to a social media environment that operates as a gift economy versus a market economy (including the ability to identify social media environments that operate as both simultaneously).
- The ability to articulate in personal terms how networked participation is changing the relationship with one's local environment, and be able to calculate trade offs and assume responsibility for one's choices.
On the historical trend towards inclusivity and openness
Rob Weir, from the Antic Disposition blog:

"It does seem that the general flow of history has been:

1. A move from undocumented or improvised laws to laws that are fixed and publicly documented.
2. A move from laws created by a single entity to laws formed as part of a deliberative, multilateral, consensual process.
3. A move toward increasing inclusivity as to who whose interests are considered.
So we should never stop at a claim of "openness" and say that with the mere application of this label that all diligence has been performed. You need to ask yourself always, whose interests have been taken into account? All? Many? Few? One?
There seems to me to be a natural parallel here with the "open standard" moniker. Is it a single fixed and unitary concept that admits of no degrees? Or is there a wide range of standards which share the concept "open" to one degree or another? How thinly can the concept be diluted? Can it be homeopathically prepared, with one drop enough to inoculate gallons?
I think the key is to move away from the mere consideration of the process of standardization and to also consider the content of the standard. Just as a Constitution that held that women could not vote was far from open, even though it was drafted in an open committee process, a standard that does not facilitate use by competitors is not open, regardless of the process that created led to it. We need to move beyond strictly process-oriented definitions of openness and bring in considerations of content and results. A standard can be per-se non-open if its content violates important principles of openness." (http://www.robweir.com/blog/2008/01/brief-history-of-open.html)
Joi Ito's Optimism on Open Networks
"I am optimistic that open networks will continue to grow and become available to more and more people. I am optimistic that computers will continue to become cheaper and more available. I am optimistic that the hardware and software will become more open, transparent and free. I am optimistic that the ability to for people to create, share and remix their works will provide a voice to the vast majority of people.
I believe that the Internet, open source and a global culture of discourse and sharing will become the pillar of democracy for the 21st Century. Whereas those in power as well as terrorists who are not have used broadcast technology and the mass media of the 20th century against the free world, I am optimistic that Internet will enable the collective voice of the people and that voice will be a voice of reason and good will." (http://edge.org/q2007/q07_14.html#ito)
Open Documentation
Articles
Richard Straub: Is the World Open? [6]
Interesting historical approach to the emergence of openness as a value: Open Works, Open Cultures, and Open Learning Systems. Michael A. Peters. Chapter 4 of Putting Knowledge to Work and Letting Information Play: The Center for Digital Discourse and Culture. Edited by Timothy W. Luke and Jeremy Hunsinger. Center for Digital Discourse and Culture, December 2009. [7] (pp. 76+)
How Free Became Open and Everything Else Under the Sun. Biella Coleman and Mako Hil
Conferences
Interviews
Interviews in print or transcripts:

Open Source:
Podcasts
Openness 2.0 = a five part ongoing series by First Monday.
And also:

On Open Source:
Tags
Collective tag of the Open Everything project: http://delicious.com/tag/openeverything
Individual tags from mbauwens: Open-Access-Movement ; Open-Biology [8] ; Open-Content ; Open-Data ; Open-Hardware [9] ; Open-Source-Commercialization Open-Standards
Webcasts
Mark Surman on a Free and Open Future
And also:
On Open Source:
Open Movements
Sister organizations of the P2P Foundation:
The following are most similar in intent:
Key Movements supporting the Open paradigm
Open Education
Open Knowledge
Public Domain:
Open Licensing
Open Media
Open Money
Open Software
Organizations for Freedom in Communication, a list maintained by the Free Software Foundation
Open Standards
Open Design and Open Manufacturing
Categorisation
This is by no means complete, but may make sense as a structure for the encyclopedic list below. Please help in updating it.
Infrastructure
Soft infrastructure:

Hard infrastructure:

Raw material:
Processes
Output