Category:Business
Jump to navigation
Jump to search
Our P2P Business Network
(this section is under construction, will be finalized soon)
---
Michel Bauwens
Sam Rose
Adam Arvidsson
Georg Pleger
Matt Cooperrider
Alex Rollin
michelsub2004 at gmail dot com
samuel dot rose at gmail dot com
georg at pleger dot at
Marcin Jakubowski
Stan Rhodes
Steve Bosserman
Tia Carr
Natalie Pang
joseph dot dolittle at gmail dot com
---
Introduction
This section collates material related to peer production, P2P Business developments, and P2P Economics issues.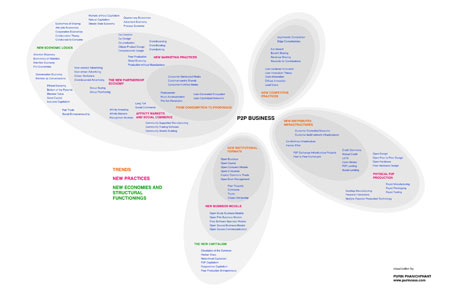 larger version
A map with a conceptual overview of the peer to peer business space. Every concept in the map is searchable via our wiki search box on the left.
Recommended reading:
Please note that the issue of physical peer production is monitored separately in this section
Short Citations
Long Citations
Competing 'on top' of the Commons
"One of the best ways to stimulate competition, innovation and lower prices is for participants in a market to honor the commons (a shared pool of resources, a minimal set of safety or performance standards) and then to compete "on top" of the commons. Instead of being able to reap easy profits from monopoly control over something everyone needs -- say, a computer operating system like Windows -- a company must work harder to "add value" in more specialized ways." (http://onthecommons.org/node/1196)
- David Bollier
The Sharing Economy should be distinguished from the Monetary Economy
"... the quest for self-determination and meaningful and memorable experiences ultimately will hinge on people's understanding that they are not merely consuming a product, but that they are actually participating in a meaningful social process not guided by an extrinsic logic (profit), something that rather has intrinsic, or 'sovereign' value. I don't believe that these two can be fused into one
- Eric Kluitenberg, iDC archive [10]
Market Logic vs. Network Logic
"The philosophy that undergirds exchange also contrasts sharply across forms. In markets the standard strategy is to drive the hardest possible bargain in the immediate exchange. In networks, the preferred option is often one of creating indebtedness and reliance over the long haul. Each approach thus devalues the other: prosperous market traders would be viewed as petty and untrustworthy shysters in networks, while successful participants in networks who carried those practices into competitive markets would be viewed as foolish and naive... In a market context, it is clear to everyone concerned when a debt has been discharged, but such matters and not nearly as obvious in networks."
- Walter Powell - "Niether Market Nor Hierarchy: Network Forms of Organization" 1990
Markets without Money
"Money is a very important and useful medium of exchange for high-value, tangible products. For small-value, intangible products, the costs tend to exceed the value of the transactions—especially when you add in the overhead associated with making payments at a distance. Fortunately, human beings are clever. We've begun to find a variety of substitutes for money that work better."
- Tim Lee [11]
Social Commerce and the Intention Economy
"only 13% of consumers say they buy products because of their ads. Contrast that to 60% of small business owners in North America that say they use peer recommendations to make their buying decisions and over 70% of 18-35 year olds who report the same for their media purchases."
- Tara Hunt [12]
Key External Articles
On the Economics of the Commons

Circulation of the Common. Nick Dyer-Whiteford.
Common Rights vs Collective Rights is an essay by Dan Sullivan in which he also explains the difference between Common Property and collective property.
Can peer production make washing machines?. By Graham Seaman.

On Information Economics

JP Barlow, "The Economy of Ideas: A framework for patents and copyrights in the Digital Age", Wired 2.03 (March 1994)
E Dyson , "Intellectual Value", Wired 3.07 (July 1995)
K Kelly, "The Economics of Ideas", Wired 4.06 (June 1996)

On Open Source economics

On the Economics of Participation

Which tools to use for collaboration in business? - recommended overview table.
Key Internal Entries
Check the following priority entries:
From consumption to produsage

New coopetitive practices
New distributed infrastructures

New institutional formats

New business models

The new capitalism
Key Tags
P2P-Advertising; Crowdsourcing; Desktop Manufacturing; Distributed Capitalism; Innovation; Netarchical Capitalism; Open Source Commercialization; P2P Banking; P2P Business Developments; P2P Capitalism; P2P Economics; P2P Exchanges; P2P Management Developments; P2P-Money; P2P-Production; P2P-Property; Revenue Sharing; Social Commerce
Related Issues of P2P News
External Sources
Selected Wikipedia entries
Selected Podcasts
The P2P Business Encyclopedia
Subcategories
This category has only the following subcategory.