Alex Pazaitis
Jump to navigation
Jump to search
Bio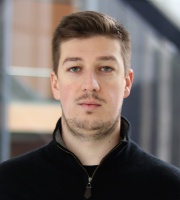 Alex Pazaitis is a core member of the interdisciplinary research collective P2P Lab, spin-off of the Ragnar Nurkse Department of Innovation and Governance, Tallinn University of Technology and the research arm of the P2P Foundation. He holds an MA in Technology Governance and is currently a Junior Research Fellow and PhD candidate at the Ragnar Nurkse Department.
Alex is currently a core team member of the COSMOLOCALISM project and has been involved in numerous research activities, including scholarly papers and research and innovation projects. He has professional experience in project management and has worked as a consultant for private and public organizations. His research interests include technology governance; innovation policy; digital commons; open cooperativism and distributed ledger technologies.
e-mail: alex.pazaitis (AT) gmail.com; alex.pazaitis (AT) p2pfoundation.net
Publications
Articles
Pazaitis, A., De Filippi, P. & Kostakis, V. (2017) Blockchain and value systems in the sharing economy: The illustrative case of Backfeed, Technological Forecasting & Social Change, 125: 105-115.
Pazaitis, A., Kostakis, V. & Bauwens, M. (2017). Digital economy and the rise of open cooperativism: The case of the Enspiral Network. Transfer: European Review of Labour and Research. 23(2): 177-192.
Giotitsas, C., Pazaitis, A., and Kostakis, V. (2015). A peer-to-peer approach to energy production. Technology in Society, 42: 28-38.
Book
Bauwens, M., Kostakis, V., & Pazaitis, A. (2018, forthcoming) Peer to Peer: The Commons Manifesto. London, UK: Westminster University Press.
Chapters
Pazaitis, A. and Bauwens, M. (2018, forthcoming) New roles of citizens, markets and the state for an open-source agricultural revolution. In: Vivero Pol, J. L. (ed.), (working title) Food as a Commons: An Alternative Narrative and Political Praxis to Cultivate and Eat. London: Routledge.
Bauwens, M., Kostakis, V., & Pazaitis, A. (2016). Towards a society of the commons. In W. Baier, E. Canepa & E. Himmelstoss (Eds.), Transformative Strategies: European Network for Alternative Thinking and Political Dialogue. London: The Merlin Press.
Working papers
Pazaitis, A. How can the commons provide a new rationality for the firm in the information age? (single-authored)
Pazaitis, A. Capturing value from open innovation: the case of Sensorica (single-authored)